We are excited about the future of F5000 in Australia after Phillip Island (March 11-13) with 28 x F5000's with 12 from NZ and even a couple of UK cars including two other Chevrons to water down the 13 Lola's. Ken Smith NZ's perennial champion with 53 continuous years of racing behind him was right up the sharp end but was also joined by Tim Berryman in the ex Davison Lola T332 made Tom Tweedie's job pretty hard as these guys were bloody quick and nobody gave an inch … the racing was fast and close and the front guys were racing under the lap record Tom set two years ago so take a look at https://www.youtube.com/watch?v=7-IwcGqopZg for one of the races and go to F5000 Facebook or YouTube for the rest.
Tom's Chevron managed pole position closely followed by Smith and Berryman's Lola's, Kiwi Ken Smith protégé Tom Alexander in Thornton's UK earlier B24 Chevron, Robson and Zazryn (Lola's) and the rest also including Peter Brennan, Alfie Costanzo who changed cars mid weekend, Bryan Sala in an unfamiliar Elfin MR5B, Andrew Kluver from Sydney having his first run in his Lola T330, Rod Carroll also from Sydney in his pretty little Lola T140 plus many more and everyone behaved themselves very well with no stoppages for spinners or accidents in both qualifying sessions or races apart from a harmless spin by Frank Harris (Vic) in turn one … saved only (of course) by the Chevron B24 he was driving but I bet it got his attention and a change of underpants … it is on YouTube.
Some other interesting cars included a Kiwi owned Talon, ex pat Philip Lewis (Matich), various Elfins including perennial Bill Hemming and as mentioned above Harris's ex USA VDS liveried Chevron B24 which was having its second outing since being imported so most makes were present and all down the field the racing was close and of course so noisy the F5000 cars set off a number of car alarms in the nearby car parks and no doubt woke up the "wingless'' resident penguins too!
The rain held off and Tom's B24/28 won the first three races closely shadowed by veteran Kenny Smith who has lost none of his drive or ability then Berryman and young Alexander right behind with the rest of the field a little further back. Eight lap race four was taken by Tim Berryman who bolted on a new set of Avons and won by 0.32 sec from Tom with Kenny a further 6 x secs in arrears and followed by Robson and Zazryn and then a gap to NZ Russell Greer, Sefton Gibb, David Banks and the rest … with only one DNF being Thornton's Chevron with a broken steering rack now being driven by him as his March had expired earlier on Saturday so Tom Alexander did not race it on Sunday.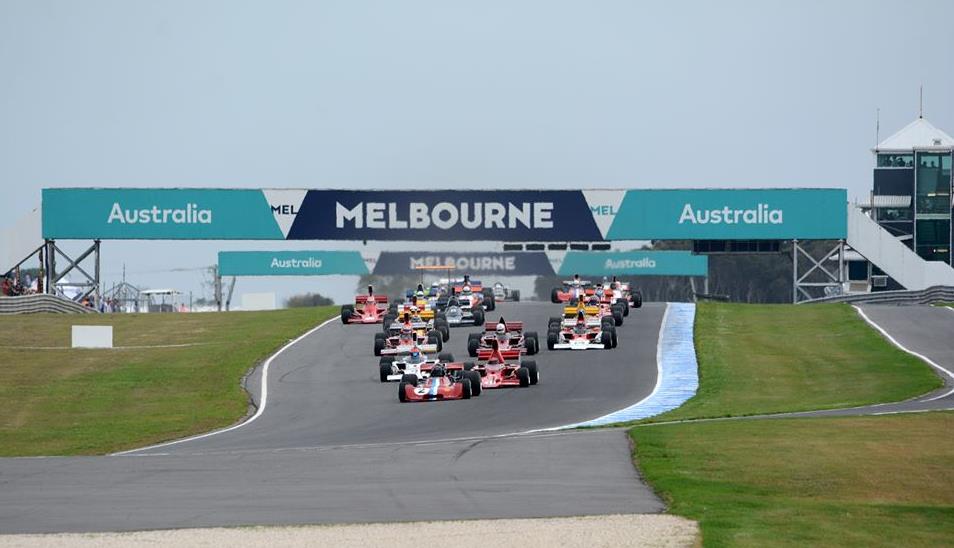 It was reported elsewhere that the Aussies won the NZ- Aust Challenge but that was not what it was really all about. On Friday night headed up by Peter Brennan, the F5000 Association put on a most successful social night in one of the Islands halls. Many of the past F5000 drivers including John Goss, Jon Davison, Alfie Costanzo, Bruce Allison, Chaz Talbot, Kevin Bartlett, Vern Shuppan, Phil Moore, Henry Michell, Warwick Brown and Kenny Smith who is still racing after 53 years (hope I haven't missed anyone) mixed with over 200 current drivers , guests and crew … brilliant!
This night also helped to create greater bonding with the entire F5000 contingent attending the race meeting and I suggest also in the future … even Gossy said to me on Sunday he would like to find a nice mid-field late 1960's McLaren or something as he was seemingly all fired up again after almost 40 years of retirement … such was the atmosphere of the entire weekend in F5000 and it will be a hard act to follow.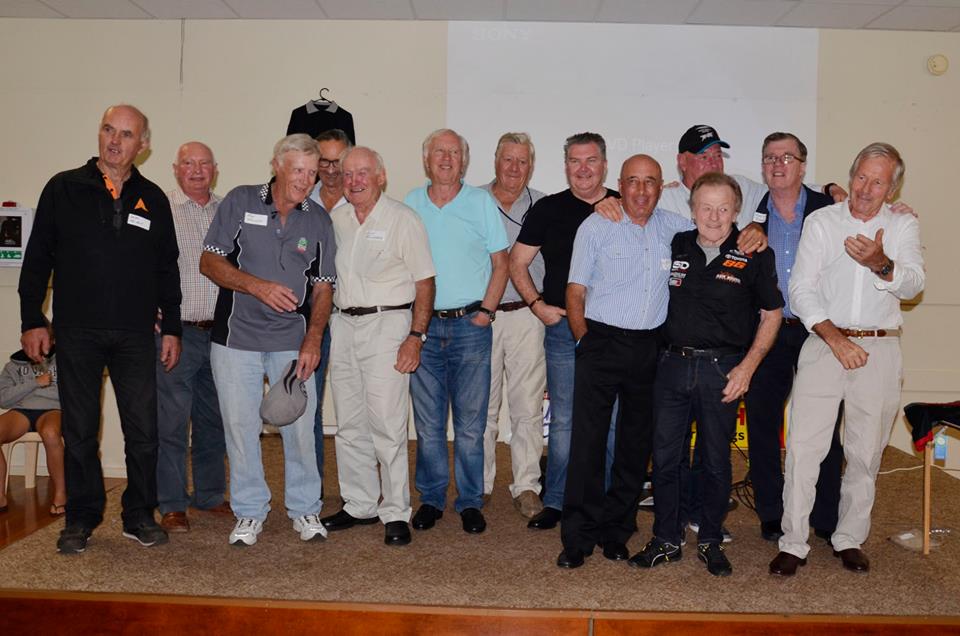 Photo: F5000 old farts
So with some new cars coming on line the F5000 series commencing in WA at Barbagallo in October followed by Sandown and Eastern Creek we have three more rounds of F5000 this year with full fields including the Kiwi's again and I intend to invite all of the above old farts again to enjoy and reminisce … more details later.
PS: On the weekend we met David Abbott who is the NZ F5000 series organiser and he was buzzing around our pits like a bumble bee … a most interesting man with a font of expertise and F5000 experience and is a Cathay Pacific training pilot in his spare time. He owns two Lola T430's that I know about and when Tom was summoned to the tower for suspected excessive noise (memoirs of 2014 where he was pinged and not allowed to run along with John Bowe in a F1 March) David immediately came to me and asked why … I told him and he scampered off to the tower, sorted them out and Tom was exonerated … thank you David and I am sure the wingless penguins also will survive!!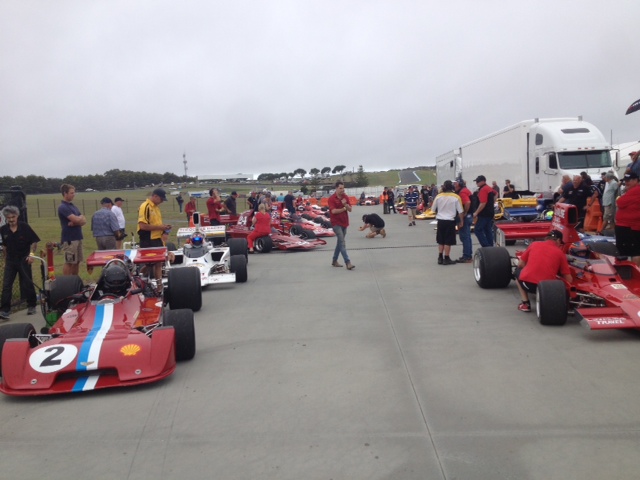 Photo: Dummy grid at PI
Cheers

TEAM TOM
For more information about Tom head to www.tomtweedie.com or search for 'Team Tom - Tom Tweedie Motorsport' on Facebook.
ENDS