AN ABSOLUTE CLASS FIELD that included three ex Formula 1 cars, two ex Indy turbo cars , one 1988 LeMans 962 twin turbo Porsche and two older Formula 5000's plus some very quick Formula Atlantic Ralt RT4's BDA engined cars (Tom in the Chevron) and many other fast sports and racing cars from the early 1970 to 1988 era created some great racing with this very varied and talented field of well presented fast cars.
Qualifying was held in the rain and Tom was 3rd on old tyres and father Tweedie in his big Elfin sports car three tenths of a second slower in 5th grid position both cars being a handful in the wet with their large tyres and big horsepower so both drivers were well pleased.
Two races of 15 minutes duration were held on a dry Saturday afternoon with Tom winning by around half a minute on average for both races and a best lap on his very used old Phillip Island tyres of 1m27.9 secs which was only a couple of seconds off his own outright record held in September last year on brand new tyres. Father Tweedie however was not so lucky with a suspension failure on lap 1 when in 4th place which finished his weekend so all was left for Tom to do.
Races 3 and 4 on Sunday were also Tom benefits (wins) with race 4 being the main Trophy Event and longer with a duration of 20 minutes (13 laps) and Tom won by a margin of almost 1 minute over second place car with the rest of the field enjoying some good close racing on a most pleasant mid 20's degree Autumn day.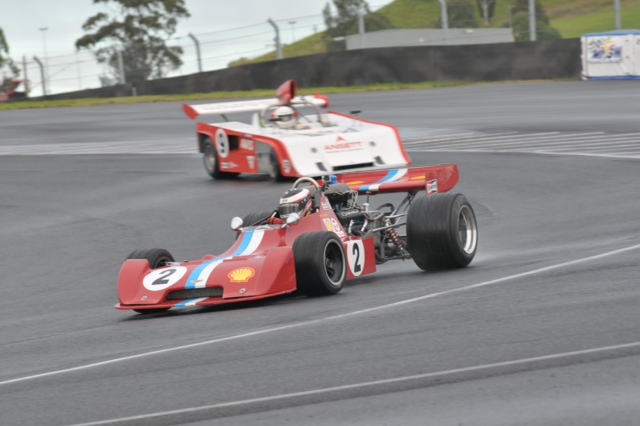 Above: Tom and his father in the same races at SMP
Tom's next event date is unsure as there are discussions being held with the Australian Formula 5000 Association as to when all the cars together with the NZ counterparts can afford to combine again and Barbagallo (WA) in October is being suggested as part of a two part series with Sandown Historic two weeks later in November.
It is unlikely the Chevron will race beforehand unless Tom can run against similar cars and have some competition which is a pity because we are all sure everybody loves watching these noisy "big bangers" blast their way around our circuits and they are wasted sitting in garages for most of the year so watch this space for further developments.
Cheers

TEAM TOM

For more information about Tom head to www.tomtweedie.com or search for 'Team Tom - Tom Tweedie Motorsport' on Facebook.
ENDS