FASTEST EVER lap of current circuit configuration .... and THREE wins with a new lap record as well ...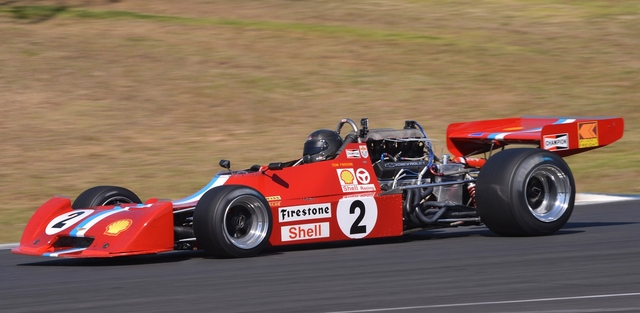 Above: Tom leading the Formula 5000 Australia Cup race meeting at the V8 Supercar Sandown 500
TWEEDIE EXTENDS F5000 SERIES LEAD
Sydneysider Tom Tweedie has consolidated his lead in the 2013/14 Formula 5000 Australia Cup with an almost all-the-way win in the weekend's feature event, run as a curtain-raiser to Sunday's V8 Supercar Sandown 500 in front over 65,000 spectators who attended the race meeting.
Tom won both races 1 and 2 convincingly on Saturday after a small engine problem hampered his qualifying leaving him in 3rd grid position after only one flying lap. However he made up for it in both races and lowered the lap record to 1m 06.3 in race 1 and dropped it a further half second to 1m 5.7 in race two ... faster than any car whether modern or historic has ever lapped this circuit ever ... quite an achievement for a 40 year old car with it's 25 year old driver and good for F5000 which are still the fastest racing cars in Australia after all these years.
Race 3 the Chevron B24 was just beaten away from the rolling start by Kiwi Andrew Higgins (Lola T400), but burst through to lead half-way round the opening lap and was never challenged and won by over 10 seconds. A potential three-way scrap for second between Higgins, Kiwi legend Ken Smith (Lola T332) and Richard Davison (Lola T332), became a two-way one after two laps when Higgins' brake pedal went to the floor at the end of Sandown's long start-finish straight and he spun.
Fortunately, following cars avoided the stationary car and he was able to rejoin, albeit with reduced braking capacity, and charge back through to an eventual fourth-placed finish.
To his delight, Davison – son of the great former AGP-winner Lex Davison and father of V8 Supercar stars Will and Alex – was able to see off the challenge from Smith and earn a well-deserved second place:
"I've ticked off one of my Bucket List items this weekend – racing on the same track as the great Ken Smith," he beamed.
Melbournians Bryan Sala (Matich A50) and Andrew Robson (Lola T332) completed the top six.
Formula 5000 Australia Cup points after two rounds: Tweedie 110; Smith 83; Higgins 79; Sala 61; Aaron Lewis 45; Davison 41; John Bryant 31; Tim Rush 30; Darcy Russell 23; Andrew Robson 19; Tony Floriani, Rod Carroll 14; Clark Proctor 12.
On car footage lap 1 ....
The Formula 5000 Australia Cup is supported by Gibson Freight and MSC. and next outing will be at Sandown Park Historic race meeting 8-11 November 2013.
Pic: Kiwi Andrew Higgins (ex-Mario Andretti Lola T400) led eventual winner Tom Tweedie, Ken Smith and Richard Davison out of the opening corner at Sandown, but the youngster was soon past to record his second feature win in the past two weeks. Images courtesy John Morris/Mpix and thanks to Chris Lambden also for some of the script.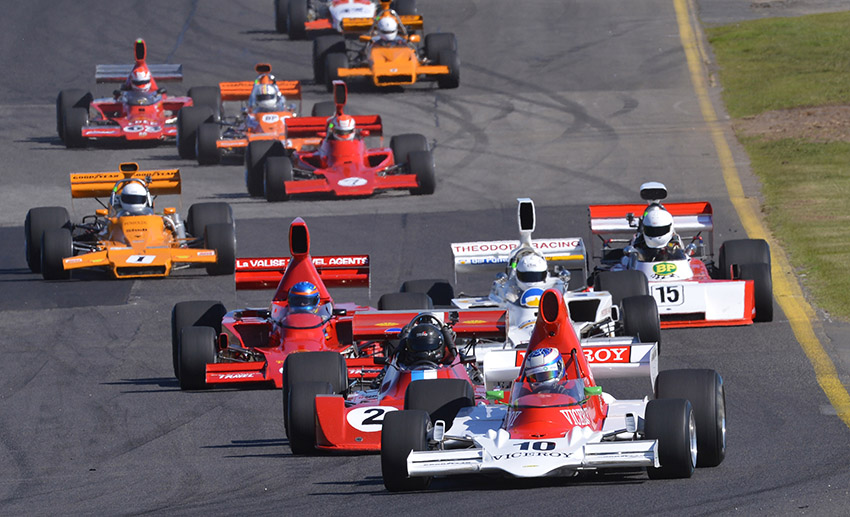 Above: Kiwi Higgins (Lola T400) holds a brief lead over Tom (car 2) and NZ Ken Smith (Lola T332) in race 3 for only four corners then Tom took over ... again
Cheers

TEAM TOM

For more information about Tom head to www.tomtweedie.com or search for 'Team Tom - Tom Tweedie Motorsport' on Facebook.
ENDS