Huge race meeting predominantly for Touring Cars but F5000 were also asked to attend by invitation including FOUR of the best cars from New Zealand F5000 brigade were shipped over so the racing was intense.with the best of our local drivers as well including last years MCM winner Brian Sala from Melbourne in his yellow Matich A50 and Richard Davison - father of V8 Supercar drivers Will and Alex who was giving his ex Teddy Yip/Alan Jones (F1) Lola T332 a run as well until engine gremlins stopped him ... and Aaron Lewis in a Matich A50 who was previous owner of Tom's Chevron B24/28.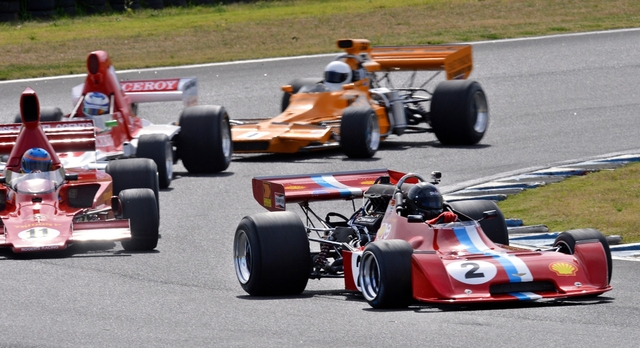 Above: Tom leads a very competative field through turn 2 at the start of Race 3 on Sunday (minus Proctor)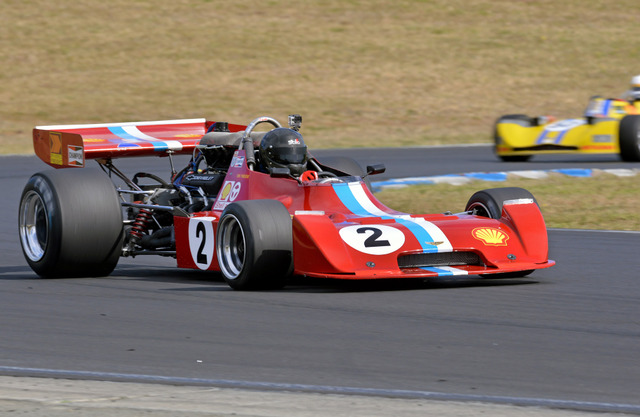 Above: Tom leading NZ's Clark Proctor in race 2 before the Kiwi's engine problems
Tom qualified 4 x seconds under the existing lap record for pole position (1 m 25.7secs) and won all THREE races including setting a new LAP RECORD in race two. The Chevron ran faultlessly throughout and he and the team spent some time on Friday's untimed "free" practice sessions adjusting an playing with the suspension settings to get a good balance.
Weather was excellent (Spring) all weekend and Tom had a great weekend with his new car and his next outing is at the V8 Supercar round (Sandown Park) in Melbourne weekend 13 - 15 September ... where more F5000's are expected to join him on the grid which promises to be a fabulous weekend but meantime for more F5000 news go to the interesting link below:
http://forums.autosport.com/topic/189460-2013-2014-tasman-cup-revival-series/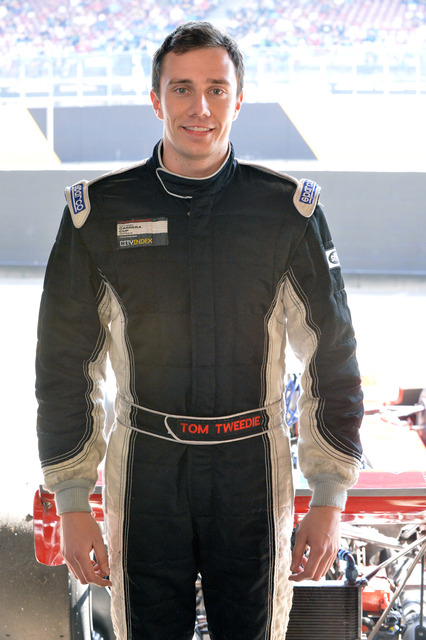 Above: Tom Tweedie
Cheers

TEAM TOM

For more information about Tom head to www.tomtweedie.com or search for 'Team Tom - Tom Tweedie Motorsport' on Facebook.
ENDS