For some time we have promised the debut of our ex Aaron Lewis championship winning Chevron B24/28 V8 Formula 5000 and are pleased to advise it turned a wheel after a complete rebuild (and installation of as new big horsepower Wayne Smith engine) in readiness for it's first race meeting June 28 - 30 at SMP (Eastern Creek).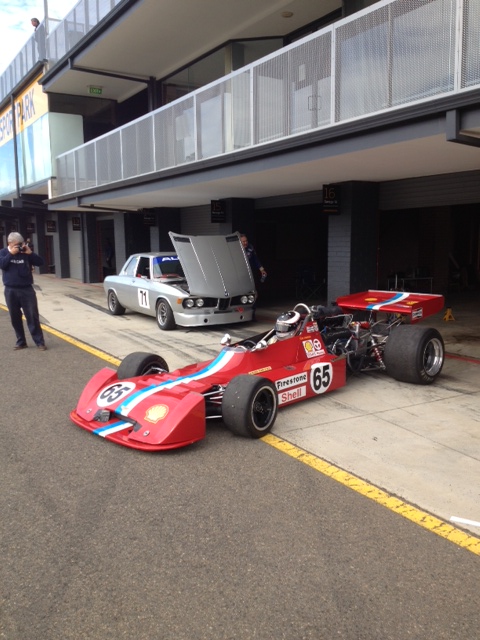 The weather (rain from lunchtime onwards) and a couple of minor teething problems led to a much shortened day and only 9 x laps bedding things in but overall we got some good feedback as to where some adjustments were needed and Tom was happy with our "out of the box" handling/suspension settings which were based on past experience with our previous open wheeler race cars and of course the Elfin MS7 which is very similar to F5000 except with mudguards.
Tom was ecstatic with the overall straight line performance and anticipates with more time in the car and suspension fine tuning adjustments at the forthcoming Eastern Creek race meeting (June 28-30) on the long track he should be up to pace so he can be competitive at Muscle Car Masters end of August with a full field of F5000's including some NZ entries and a busy year following including Sandown Park (Vic) as a support category to the V8 Supercars in September plus the Sandown Historics in November and the Australian Grand Prix in March 2014 is a strong possibility too with Phillip Island the weekend before.
Overall a confident building shortened day but very fruitful and as they say .... nothing fell off the car so everybody is very happy.

Cheers

TEAM TOM

For more information about Tom head to www.tomtweedie.com or search for 'Team Tom - Tom Tweedie Motorsport' on Facebook.
ENDS