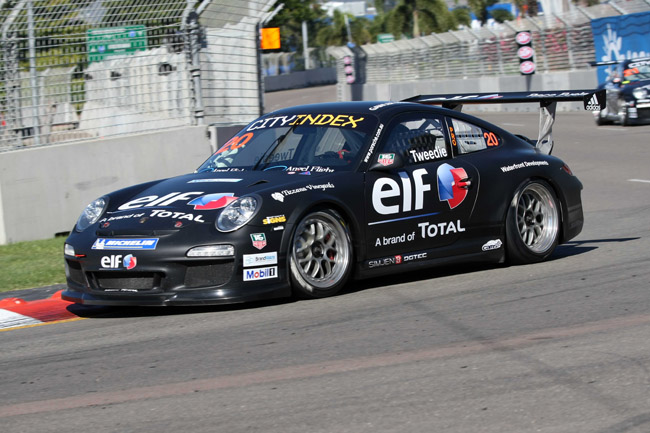 TOM TWEEDIE in action during Round 5 of the 2012 Carrera Cup in Townsville Queensland.
After a disappointing Phillip Island round in May my eyes were focused on redemption at Round 5 Townsville a track that I raced a V8 Supercar at last year but yet again beyond my control my car was "launched" from behind and damaged extensively so I could not continue racing.

So far my year has not gone as planned ... I am most disappointed and some of the years "problems" maybe could have been avoided but as they say ... that is motor racing and no-one is to blame but I have after much deliberation decided to save our recourses for next year and withdraw from the last THREE rounds of the series in 2012 to complete my University degree and concentrate on my new (and very busy) career with McGrath Real Estate in Lane Cove - Sydney.

Team BRM as usual were terrific throughout 2012 although they too must be disappointed but I am cofident they will find other drivers for my Porsche ... especially at Bathurst and I thank them for their patience and understanding.

Again I must also thank my sponsors below and all my TEAM TOM supporters ... without your support none of this would have been possible but rest assured I will be back (somewhere) in 2013 so watch this space ...

For more information about Tom head to www.tomtweedie.com or search for 'Team Tom - Tom Tweedie Motorsport' on Facebook.
ENDS