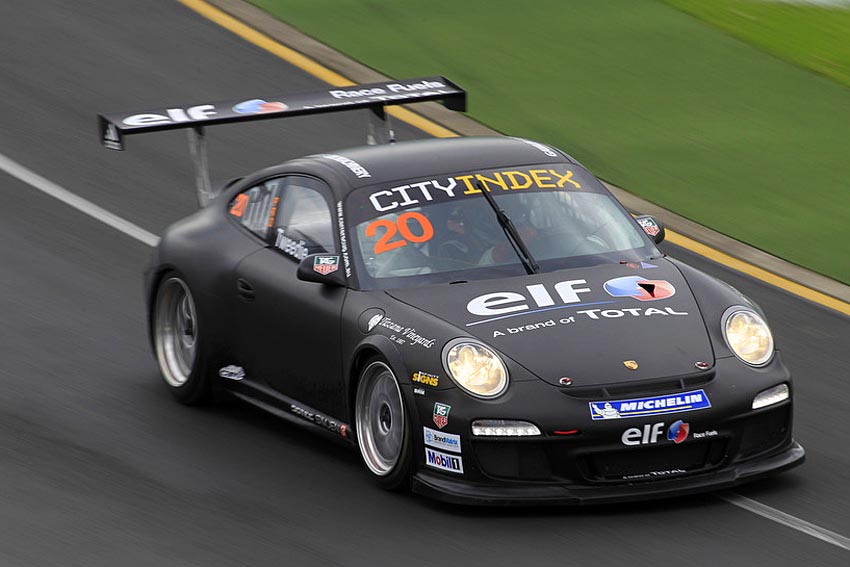 TOM TWEEDIE in action at the Formula 1 Qantas Australian Grand Prix. Photo: carreracup.com.au
Almost 3rd outright in race 1 before my teammate Foster (who was on new tyres) decided to hit my rear left and broke my suspension three turns from the finish so the car was rendered undrivable and extensive overnight repairs were required.
Race 2 was spent playing "catch up" from the back of the grid due to the race 1 incedent with Alex Davison also behind me doing the same we got up to 8th and 9th respectively ... just a couple more laps and we probably would have almost been with the leaders. This however screwed up my only set of remaining tyres so I was forced to start race 3 without the benefit of another set of tyres as they were destroyed in the race 1 incident with flat spots.
Race 3 I simply did not have the pace on old tyres to progress so came home a safe 8th on my own but with hindsight I think we also got the car setup a bit wrong as the car lost nearly 2 x seconds a lap initially on the cold tyres.
Keep an eye on my facebook page for further updates and meantime our next event is at Townsville July 6 - 8th where I raced last year in the Fujitsu V8 Supercar series so I am familiar with the circuit which will help.
STOP PRESS:
Elf Race fuels (a division of Total) have increased their sponsorship involvement in my Porsche from Townsville onwards and now will also be entering the car under their name ... a special bonus for the guys at BRM - Team Tom so no more "blank black" doors!!

For more information about Tom head to www.tomtweedie.com or search for 'Team Tom - Tom Tweedie Motorsport' on Facebook.
ENDS