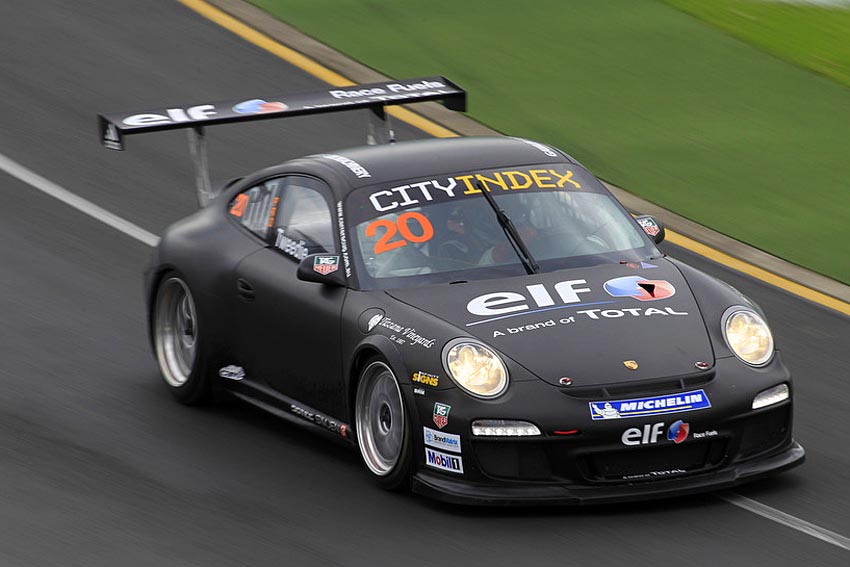 TOM TWEEDIE in action at the Formula 1 Qantas Australian Grand Prix. Photo: carreracup.com.au
Didn't have the numbers due to the traveling costs but as usual the quick guys were there and well up to speed and Kiwi Jonny Reid took the overall honors for the weekend.
I still am adjusting the huge difference between last years V8 SuperCar and this years much more nimble Porsche especially in the braking areas where perhaps I am still being a little conservative but otherwise I was only half a second per lap off the front guys and finished 7th in every race just behind Steven Richards in the last two so considering his vast experience in both V8's and Porsche the Team and I were pretty happy so go to http://www.natsoft.com.au/cgi-bin/results.cgi?06/05/2012.BARB.R11 for race 3 results.
We are off to Phillip Island this weekend (18 - 20 May) where I tested a couple of months ago in difficult conditions and expect some good results in a field that has increased to 19 cars ... should be interesting! Keep an eye on my facebook page for further updates..

For more information about Tom head to www.tomtweedie.com or search for 'Team Tom - Tom Tweedie Motorsport' on Facebook.
ENDS