22/10/2008 - Podium Result for Tweedie at Phillip Island
After finishing a strong 2nd in the NSW State Formula Ford Championship Tom Tweedie turned his attention to the 6th and final round of the Victorian State Formula Ford Championship at Phillip Island on the weekend.
After having only completed a handful of laps around the fast Phillip Island Circuit the young 20 year old certainly showed that he was not going to let this hold him back and qualified the Minda Motorsport Spectrum 3rd in a very competitive field.

Race one saw the three cars of Tweedie, Luke Ellery and Andrew Beams extend a good lead over the rest of the chasing pack finishing the 7 Lap race with only 1 second between them and Tweedie bringing it in for 3rd.
Sunday saw the Southern Victorian track bring out its usual surprises with ominous weather surrounding the circuit and the threat of rain very possible. Race two saw the three cars off to another 7 lap duel with Tweedie in 2nd spot for the final 3 laps only to cross the finish line in 3rd to championship leader Andrew Beams by a margin of 0.004 of a second.
After holding off all day the skies opened momentarily for the final race with teams frantically trying to adjust car settings on the dummy grid. After opening stages of the race slipping around in the greasy conditions the Minda Motorsport driver consolidated a solid 3rd position onto the podium on the drying track and finishing a respectable 3rd for the weekend.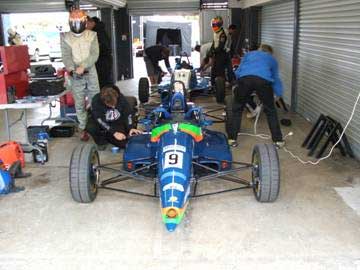 "I am more that happy with the results both I and the team have achieved. Up to this weekend I had very little experience here [Phillip Island] and in the Spectrum chassis so to be right on the pace while mixing it with the championship leaders is really promising for me".
"I would like to thank Minda Motorsport (Bruin Beasley) who has allowed me this opportunity to compete and provided me with an excellent car all weekend".
"We are in the final part of working out plans for my racing next year and it looks like I will be competing in the National Formula Ford Championship with the Minda Motorsport outfit which I think will be a great year in which I plan to get outstanding results"
Tweedie will finish 2008 competing in the Tasman revival at Eastern Creek (28th-30th Nov) and Oran Park V8 Supercar Round (5th-7th) Dec in a variety of different cars.
FURTHER INFORMATION and results can be obtained from:-