30/09/2008 - Runner up Honours for Tweedie in NSW Formula Ford 1600 Championship in 2008
There were a number of positives for Tom Tweedie to draw from after his second place finish in the overall 2008 NSW Formula Ford 1600 Championship point standings.
After six hard fought rounds, the Anglo Australian Motorsport driver finished second on four occasions for the overall round behind team-mate Ryan Simpson. Tweedie was the only driver that managed to defeat Simpson when he took out two race wins, the first at Eastern Creek Raceway in round two, and the race win took place during the fifth and penultimate round at Wakefield Park Raceway.
Last year in Tweedie's first full season of Formula Ford he ended the NSW Formula Ford 1600 Championship in fourth place and this year he really stepped up to the plate by being a front running contender and finishing second overall in the point standings.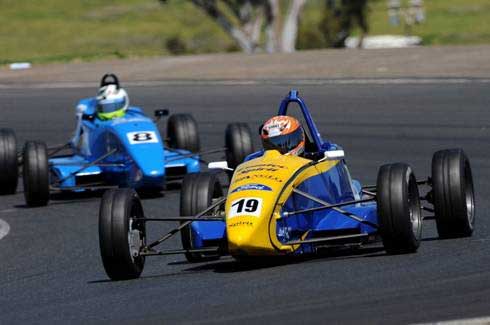 "On numerous occasions this year there has been very little separating both Ryan [Simpson] and even up to the final round I was still a mathematical chance of winning the championship despite some back luck at the previous round," stated Tweedie.
"I have certainly learned a lot throughout the year and the Anglo Australian Motorsport team have been very good to work with for the past two years, and all of the experience I have gained is going to hold me in good stead for whatever I decide to do next year whether it is the Australian Formula Ford or Formula 3 Championship."
The NSW Formula Ford 1600 Championship last weekend at Eastern Creek Raceway for the sixth and final round didn't end in the best fashion as the 20-year-old was dogged by a number of mechanical issues and that forced him to retire from the third and final race. Earlier in the weekend Tweedie had qualified third and finished race one and two in third and second respectively. The weekend didn't get off to the best of starts when in Friday's practice sessions his day was cut short due to mechanical issues to the normally mechanically sound # 19 Comtec Spirit WL07.
Final 2008 NSW Formula Ford 1600 Championship Point Standings (after sixth completed rounds):
1 Ryan Simpson – 530 points
2 Tom Tweedie - 412
3 Bruce McCabe - 348
4 Daniel Lewis - 338
5 Nathan Morcom - 325
Tweedie is next scheduled to contest the sixth and final round of the Victorian Formula Ford 1600 Championship at Phillip Island Raceway on the weekend of October 18 – 19 with the Minda Motorsport team.
FURTHER INFORMATION and results can be obtained from:-