27/04/2008 - REPORT No 1
A. NSW Formula Ford State Championship Round 1 – Wakefield Park 11th - 13th April 2008
Qualified: Front row 2nd on the grid.
Race one: The track had oil from turns 2 to turn 10. I took an early lead but spun on the oil and was relegated back to 2nd place seven seconds behind the leader where I finished the race but I managed to get the fastest lap.
Race two: Early morning showers and the track was partially wet. First lap I was driven into by another car that could not stop in the wet and relegated from 2nd to 5th briefly. After some limit driving worked my car back up 2nd outright and to within 0.8 seconds of leader by race finish and had fastest lap again … if only there was another lap!
Race three: After a bad start with too much wheelspin I followed my teammate (Simpson) for first half of race in 2nd place until my tyres reached their optimum then I caught and passed Simpson for a brief lead in the race. We re-passed again and finally crossed the finish line side by side 0.12 of a second apart.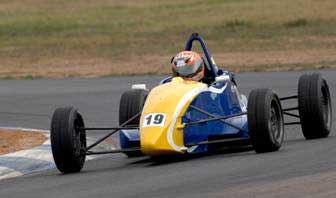 Above: 2007 WL07 Comtec Spirit